Bryan Bennett fought "800lb gorillas" working for a challenger brand in the social casino space, and that experience could prove crucial as he works to make Betfred USA Sports a key player in the sports betting sector.
The social casino boom of the early 2010s, sparked by what was then Caesars Interactive's investment in Playtika in 2009, opened up a new audience to the gaming industry and sparked a wave of M&A. The likes of DoubleDown, Big Fish Games, Product Madness and Buffalo Studios were among those to sell at significant multiples.
The smaller challengers tended to have to fight for market share, which in turn saw the market leaders turn to them as acquisition targets to further shore up their strong positions.
Bryan Bennett entered the fray as vice president of marketing for slot developer Rocketplay, one of these challengers, and one that was ultimately snapped up by slot manufacturer AGS. This saw Bennett, who previously worked for strategy games developer Kabam and casual publisher Booyah, shift into a career in real-money gaming.
After a spell working for AGS' interactive division, then a period as an investor and advisor, he joined the sports betting wave sweeping the States when he was named chief operating officer of Betfred USA Sports in 2019.
Fighting 800lb gorillas
Sports betting appeals to an entirely different audience to social casino and looks set to have a more transformational and disruptive impact on the established real-money gaming sector. Yet Bennett points out the market dynamics of the two industries are very similar.
"Obviously we're talking about very different user bases, completely different target customers and different technologies, but in terms of the macroeconomic forces at play, I think it's very similar," he explains.
"I'm back in a position where I'm fighting multiple 800lb gorillas on a regular basis, which is very similar to how the social casino market played out."
Just as the likes of DraftKings, FanDuel, BetMGM and Caesars Sports dominate the betting market, the likes of Playtika, Scientific Games and Aristocrat ruled supreme in social, while businesses such as Rocketplay fought to carve out a niche.
"It's very similar now," he continues. "Betfred, on a regular basis, is continuously up against some really large companies with big brands and big budgets. We're trying to pick our spots and do the things we need to do to be successful."
Betfred and Bengals to bare teeth in Ohio
This means the business has to be strategic in picking its opportunities, and the appetite to attack every state market as aggressively as some of its peers have done just isn't there.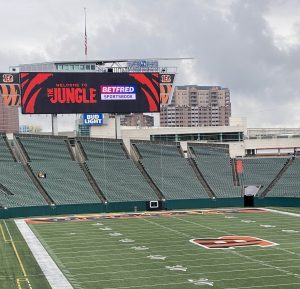 For example, its partnership with the Cincinnati Bengals, announced in July, provides a point of entry to the Ohio market from 1 January 2023, and the sort of opportunity Bennett and Betfred have been seeking. This will mark the first time Betfred has been in the first wave of launches in a state.
This, Bennett explains, has meant the business has to fight to ensure it can gain a foothold in states, with a smaller brand and smaller budgets. "To not be in the first [wave] is challenging," he admits.
"Ohio will be the first time that we're not only going out with a massive brand – one of the largest in the state – but are going to be there on 1 January, the universal start day, alongside everyone else. We will finally be in an even playing field where we're ready to complete."
This is the perfect opportunity for Betfred to go big, he says. "We're going to devote a sizable chunk of our marketing budget to Ohio. You'll see us go much bigger and be much more competitive there as opposed to somewhere like New Jersey."
More room to grow in Maryland mobile market
States that are preparing for a universal start date feature heavily in Betfred's growth plans. Maryland, which is impatiently awaiting the launch of mobile betting, offers a similar opportunity to Ohio.
In the Old Line State, Betfred is partnered with Long Shot's, a restaurant offering off-track betting, giving it a physical presence and also setting it up to secure a mobile sportsbook license.
"We think we have a really good chance of being in that first tranche in Maryland as well, and as a result you'll see us dedicate the marketing budget required to be successful there," Bennett adds.
As a smaller player without the deep pockets of the brands that fight for supremacy in every state, Betfred's approach is to pick its battles. That doesn't mean established markets are simply off limits, however. With Caesars preparing to dial down its spend, and the likes of Churchill Downs pulling back entirely from sports betting, the business will alter its strategy based on the market conditions.
In the likes of Colorado and Arizona, for example, Betfred is to take a more pragmatic approach, having initially gone heavy on bonusing. "We've dialed back some of that because quite frankly, it's just not a model that is a recipe for success," Bennett says. "When you're trying to compete on a very transactional basis and trying to steal customers away strictly based on bonusing, there's no loyalty there. They're just going to flip to the next guy.
"There are bonus hunters that are doing that across all the different operators. We've decided not to play that game. Instead, we're much more along the lines of developing an emotional connection – something deeper than just a thousand-dollar risk-free bet."
Emotional connections
Betfred's playbook will be centered more around understanding players and focusing on the mid-level and VIP crowd. Betfred "doesn't really have any use" for the more casual bettors, as they are more likely to flip from bonus to bonus.
"Instead, we want to see something moving up that hierarchy, and we can serve that frequent player and VIP. That's where we think in markets like Colorado, Arizona and Iowa that we can actually compete at that level, because we're small and nimble enough to zero in on that core target group and just serve them better than some of the larger entities can."
This group, he continues, is not necessarily made up of players who focus predominantly on the sportsbook product. Instead, Bennett views these customers as ones that look for a higher quality experience overall. They value strong customer service that ensures any issues are dealt with immediately and they enjoy special experiences.
This final component is a key element for Betfred. "That's where a lot of our sports sponsorships allow us to offer suites and VIP-level things, [like] meet and greets with players and autographs.
"We [can] really leverage that to provide a better experience to those VIP players. And we're finding there's something there and we can really make that a calling card for Betfred."
Those tangible rewards, of course, are also an easier sell than customer service, something Bennett points out is almost last in terms of what a prospective customer looks for in choosing a sportsbook. As an acquisition hook, "it doesn't pop".
This means that bonusing will still have a role to play as the way of getting a player to give Betfred a try. That then lets them analyse the individual's behaviour, deploy that personalised level of customer service with a dedicated account manager, and cultivate them into a high-value player.
Iowa on the horizon
The process of constant refinement and adaptation has recently seen the business migrate its Iowa sportsbook from Sportradar's Optima to OpenBet, bringing it in line with Betfred's offering in other states, and setting it up to compete in the market.
This means it is gearing up for a concerted marketing push around the NFL kick-off in September. "We're looking forward to this football season to finally start marketing in Iowa because we have never really done much.
"We do really well in our casino in the northwest corner of Iowa, but we were never even remotely competitive online. Now we're excited to finally give it a go online."
Betfred, of course, is built on brick and mortar, having started out as a betting shop chain in England before parlaying that into an online operation. But Bennett admits that in the US, the real success has to come online.
"We believe in retail," he says, pointing out that its location means most of its business comes from Sioux Falls in South Dakota. "By the time they drive across the border, they're at the casino.
"I think for specific circumstances retail can be very successful, and we do like having that anchor point," he adds. "It's great for branding, great for customer experience, and […] we're able to do a lot of things with the location there. But obviously we're not naive; we know the real success is going to come from online."
And having already spent years dodging 800lb gorillas in the social casino sector, Bennett brings some unique experience to Betfred's push for a position in the market.