Sports data and AI technology provider Stats Perform has renewed its accreditation to the International Betting Integrity Association's (IBIA) Data Standards.
Following an independent audit from the eCommerce and Online Gaming Regulation and Assurance (eCOGRA), Stats Perform was able to renew its accreditation for the collection and distribution of sports event data for betting.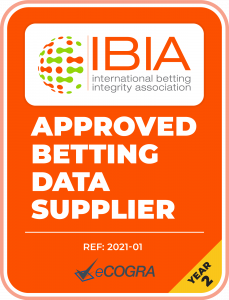 Stats Perform became the first sports data supplier to receive the accreditation back in January 2021, after committing to the watchdog's best practice standards in late 2020.
"Having been a consistent advocate for the highest standards of integrity and quality in sports data, Stats Perform was proud to become the first company to champion and receive the accreditation," Stats Perform chief betting officer Andrew Ashenden commented.
"To successfully renew the accreditation is testament to the ongoing quality and integrity efforts of our sports data operations teams."
IBIA first created its data standards protocols in October 2020, designed to ensure the fight against betting-related corruption was aided by high standards of integrity for the collection and distribution of sports data.
"Stats Perform's successful renewal of the Data Standards accreditation demonstrates the importance of the requirements, and the value betting data providers see in them," IBIA chief executive Khalid Ali said. "This is reflected in the outlook of the IBIA's membership, which views the Data Standards protocols as an essential initiative and one which has a positive impact on the sports betting environment."
In order to qualify for accreditation, Stats Perform had to meet IBIA criteria regarding personnel vetting and training; data collation processes, and data integrity and reporting.
In addition to holding all data for at least three years, Stats Perform also had to make its source of data clear by marking whether it has been generated in-person at the venue, via television or via another method.
All data has been collected by someone aged 18 and above, who have undergone background checks and identity verification. The company was also obliged to carry out thorough risk assessments for all sporting events or competitions on which they collect data.
Stats Perform is also the longest serving associate member of IBIA, and continues to provide services from its integrity division such as the provision of its Intelligence Insights and Alerts service, and the delivery of a pre-match risk assessment programme in football.
"Stats Perform has consistently been dedicated to having a positive influence and impact on the sport integrity ecosystem and its support of the Data Standards accreditation is a key component," the supplier's global head of integrity Jake Marsh added.
"In addition to raising standards around data supply, we are proud to be working closely with the IBIA and its members on complimentary projects in intelligence and risk assessment to deepen our commitment to the betting industry and the protection of sport."