Following months – if not years – of speculation, News Corp Australia has made its move into sports betting, in partnership with Tekkorp Capital, BetMakers and seasoned industry executive Matt Tripp. Tekkorp president Robin Chhabra talks iGB through the process.
Less than two weeks after it announced a new advisory arm, Tekkorp Capital flexed its muscles by playing a key role in the deal that creates a formidable new competitor for Australia's sports betting sector.
News Corp Australia has created NTD: a consortium involving Tekkorp Capital and TGW, which was formed by Sportsbet and BetEasy founder Matt Tripp.
This group has struck a ten-year supply deal with BetMakers to power a new sportsbook product. The offering is due to launch in the second half of 2022, in time for the pinnacle of the Australian racing season, the Spring Carnival.
Two of Tekkorp's senior team, chief executive Matt Davey and president Robin Chhabra, will join NTD's board. Chhabra explains that while Australia has long been a successful market, online growth has accelerated as a result of the Covid-19 pandemic, making the conditions right for the News Corp Australia project.
"It's always been growing fast but it has exploded as a result of the pandemic," he says. "There was a step change. People who tried online for the first time, having been dedicated shop users, a large portion of their wallets has stayed online."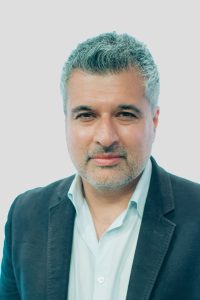 For Tekkorp and TWD, there is the prospect of working with Australia's "preeminent media outlet", across TV, radio and print, he explains. The team also has an existing working knowledge of the wider Murdoch empire, through Sky Bet in Great Britain and Fox Bet in the US (which Chhabra led as CEO), as well as Tripp's Australian media deals with News Corp.
For News Corp, he credits Tripp as being a particularly big draw. "His record is second to none," Chhabra says. "News Corp were clearly keen to get his expertise on board.
Furthermore, NTD is an independent venture. "They don't have to deal with a large independent group sitting above us, whose priorities may change over time.
"News Corp have significant skin in the game. They are investing directly into the venture, we're all equal partners, but this isn't just leveraging their media presence. They have a presence on the board, they are investors, so there is absolute alignment."
Blueprint for success
And when it comes to the convergence of media and betting, it's a Murdoch-linked business, Great Britain's Sky Betting & Gaming, that remains the business that every operator is looking to emulate.
Fox Bet, which looked to take that model to the US, could have been a contender to do so, Chhabra argues, if it was not for corporate priorities changing.
"With Sky Bet and Fox Bet, from an organisational cultural perspective, it worked very well," he says. "These were real partnerships – at Sky Bet the team had a constant and large presence in the Sky media organisation. At Fox Bet we were seen as part of the Fox family; we had access all areas, we were persistent fixtures, and a lot of the best ideas came informally – the fabled water cooler conversations, chatting to executive producers to come up with content to stimulate traffic.
"That way of working, the fact these were genuine joint ventures and not just a media deal with some bells and whistles, they really liked that," he says of News Corp.
In Australia, there is a "very compelling organic plan" that will be executed, using News Corp's "phenomenal" assets to create a distinct way of offering sports betting to the audience. "We want to do something different, and can do so with this partnership."
M&A can't be ruled out, he adds. "It's a fast consolidating market," Chhabra says. "The fact there has been so much consolidation actually creates an opportunity for us; as punters want choice, so with fewer large scale operators in the market and we can fill that gap.
"[But] you can't rule out M&A – that's just the reality of life in most regulated territories."
More of the same
And the scope and scale of the deal can act as a template for further, similar partnerships and projects that Tekkorp is aiming to establish.
"We've got a few of these types of deals in the works and want to do more," Chabbra says.
"We're not just dealmakers, we have been operators, we started businesses, operated mid-sized and large companies so we've been in our clients' and portfolio companies' shoes," he explains.
"With that blend of capabilities we can provide a rounded service. We can invest, we can advise, we can work on corporate strategy, build management teams, advise on launch and roll-out strategies, strengthen governance and compliance structures, we can provide a range of services relevant to where the company is in their life cycle."
He feels Tekkorp is almost uniquely positioned to offer such a range of services, and while it has already hired a number of senior industry figures, the team is likely to expand further. That, in turn, gives it the capacity to do more deals similar to the News Corp Australia transaction.
So while the scale of the project with News Corp Australia is vast, Tekkorp is only just getting started.