When PASPA was repealed, Daniel Graetzer saw the biggest opportunity of his career. Having gone all-in on the market, he is now running a nationally recognised brand in MaximBet.
When it comes to partnerships between US media giants and sportsbooks, it tends to be the market leaders that get mentioned. It could be 888 using the Sports Illustrated brand for its US push. Or Penn National acquiring Barstool Sports and theScore to drive its growth.
The rampant speculation around ESPN moving into betting operations tends to cite DraftKings or Caesars as being its most likely partner. In short, the companies involved tend to be large, and listed.
But MaximBet, a challenger launched in 2021, has successfully pivoted from a Europe-focused, multibrand business into a US-focused, media brand-driven competitor.
And chief executive Daniel Graetzer is keen to stress that MaximBet is not just a gimmick – he's building a new proposition for the US sportsbook industry.
Building betting into a lifestyle brand
For Graetzer, CEO of MaximBet parent Carousel, the operation was formed out of his desire to build something distinct from the wider sports betting market. "The online sports betting landscape in the US was becoming a bunch of generic sportsbooks competing on spend and price," he explains. "There was very little brand recognition."
He admits that as a new business, it was unable to compete with the market leaders on spend and lacked the means to roll out cutting-edge technology. Going toe to toe with the market leaders was never an option; instead, the strategy is not to compete with those operators.
"It's blue ocean thinking. They're in a red ocean, fighting over spend in a race to the bottom. I want to build something different."
MaximBet aims to develop a lifestyle brand in the sports betting space, something Graetzer feels is currently lacking. It's leveraging the trust and awareness around the core Maxim brand, and the nostalgia that comes with a title that has been in the market for 25 years.
"But it's so much more than that," he continues. "Now Maxim runs some of the hottest VIP celebrity and lifestyle events in the country, around the Super Bowl, Miami Swim Week and Art Basel – some of the best attended events in the market. Everyone wants to be there.
"We want to offer that kind of experience in the sports betting world as well."
Move fast and break things
The fact a new business was able to pair up with a brand of Maxim's size arose from Carousel Group quickly spotting the US opportunity as it emerged, and pivoting to focus solely on the market.
Graetzer, with experience from the regulated betting industry starting in his native Australia, ultimately moved to Spain to run Mediatech Solutions, a B2B platform provider acquired by R Franco in 2017, as the foundation of its digital division.
After that deal closed, he spotted an opportunity to create "a modern, agile, smart company" that leveraged new technology to compete in online sports betting.
"Originally our plan was to be a multibrand, multijurisdictional company," he recalls, with the initial idea being to pursue growth across Europe through the SportsBetting.com and RaceBook.com brands. "That was about the same time PASPA was repealed.
"I had just started putting the carpet down in the office when I realised that it was going to be, without a doubt, the biggest opportunity I would ever see in my career. I knew if I didn't attack this now, I would regret it for the rest of my life."
This prompted a wholesale pivot to a North America-focused business. "We acquired our own technology, started building our own sports betting technology from scratch, building all competencies in-house; our own trading, marketing, customer support, fraud, payments, risk – everything.
"I truly believed in building a vertically integrated business where you can hear what the customer says and it translates straight into a product output."
Maxim is the foundation, MaximBet is the product
This saw it originally launch SportsBetting.com in Colorado, in September 2020, with a market access deal with Caesars expanding its reach to New Jersey, Indiana and Iowa. It was not until April last year that it announced its partnership with Maxim, alongside a $50m investment from xSigma Entertainment Limited, the igaming-focused investment arm of Chinese engineering giant ZK International Group.
This was less a result of seeking out such a partnership, and more a case of being agile enough to pivot once again when the opportunity arose, Graetzer says. "My background is in tech startups," he explains. "You see a challenge, take your vision and your values, and pivot towards an opportunity because you know you're going to succeed."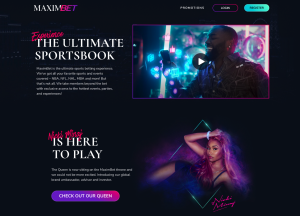 Maxim, he says, is a "fantastic partner". He is in regular contact with owner Sardar Biglari and says there are elements of the publication that have been retained, though in other areas the sports betting business has diverged.
"We aren't the magazine; we're very different, and you can see that through our brand. We've got the traditional logo, but then we're bright and colourful, we're vibrant and dynamic, modern, inclusive and very diverse."
The strategy is to take the best out of Maxim, and the best out of its partners. "We take the best out of sports, and we've built this brand together.
"So we are not necessarily a Maxim sportsbook; we are MaximBet, and we take the best of all our partners."
Still the queen, didn't pick an heiress
Ultimately, MaximBet is positioned as different, whether that's different to the wider sportsbook market, or to the publication that gives it a name. And this is further evidenced by its partners. It was, Graetzer stresses, the first to market with a name, image and likeness (NIL) at college level, making it available to female student athletes across Colorado.
This came in the wake of the Supreme Court ruling that the National Collegiate Athletics Association (NCAA) could not prevent student athletes from profiting from NIL, prompting the body to lift its prohibition in June 2021.
It was also the first bookmaker to announce an active Major League Baseball (MLB) player, the Colorado Rockies' Charlie Blackmon, as a brand ambassador. And the deal with Nicki Minaj made the musician the first female celebrity to act as a sportsbook's lead ambassador.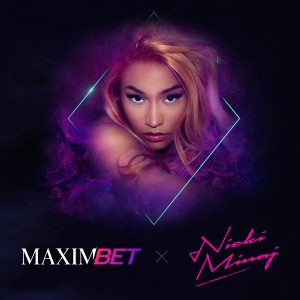 "I think the Nicki Minaj deal is the perfect example of what we want to be as a brand," Graetzer says. "Nicki Minaj is a global icon and this is the space we're playing in: mainstream media, entertainment, lifestyle, fashion, art and music.
MaximBet's partners, and its positioning, are being informed by individual personalities rather than tie-ups with teams or additional brands. It's a push to develop word of mouth and bring players through reputation rather than being one of multiple brands competing for air.
"Sports betting and casino are at our core, but we want to create an experience and a whole brand around that."
Customer care lessons
Minaj, Graetzer points out, is "one of the most influential people on the planet right now", and on social media the sixth most followed female celebrity worldwide. He goes as far as suggesting the way she engages and interacts with her fans offers lessons for how an operator can develop a loyal following.
"She's incredibly savvy," he says. "She has one of the best connections with her fanbase that I've seen in any personality or athlete.
"She's built a fandom called 'the Barbz'; there's this elite level of fans that she engages with so heavily. She invites them to get-togethers, does prayer sessions with them, she invites them to listen to her music before it gets released."
He believes the way she treats her fans is how operators should engage with their consumers, and says it's something MaximBet is seeking to emulate with its bettors. And as an investor in the business and an advisor to the board, Minaj can play a long-term role in its future.
"She brings incredible ideas to the table. We're just really excited to see them come to life."
Offering something tangible
Ultimately this all centres around offering something tangible to the players. MaximBet, Graetzer notes, has an "incredible" marketing team, and the deals with the likes of Minaj and Blackmon add "another layer on top of that".
This means an aggressive push on bonusing – "It doesn't build loyalty at all," he says – is not on the cards. Merchandise, since the Barbz are "screaming" for it, is.
And while Blackmon, as a very local hero in Colorado, is very different from the hip-hop icon, Graetzer sees him as equally important. "We love working with him, and we're doing some amazing events and special appearances."
He argues brand awareness is the biggest challenge for newcomers in the sportsbook market, and being able to build trust and awareness lets players see a brand as a significant competitor.
"It starts with a trustworthy brand that everyone knows and recognises, so they know what you'll offer, that you're genuine, and that you offer incredible experiences."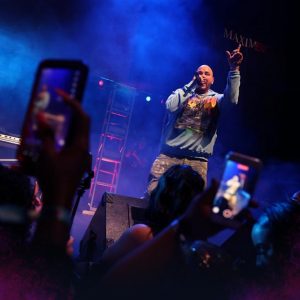 These include a Super Bowl party with Chainsmokers in Los Angeles, and a Halloween party with rappers Fat Joe and Cheat Codes, held in Denver. "We love local and small activations," Graetzer says. "We also love big ones as well.
"Our Super Bowl event was huge, with national coverage, but also a local event that we ran in Denver. We operate on both levels; we see the need to build a national brand, but there's nothing more important than connecting with the local community."
Own the experience, not the betting engine
The focus is on building "sticky, long-term relationships" with players, targeting investment to the experience rather than the underlying technology.
This has led to another pivot of sorts, to outsource its sportsbook technology to Kambi, and its player account management platform to White Hat Gaming. The loyalty platform is being built in-house, meaning MaximBet will own the player experience, something Graetzer sees as providing the business' value in the long term.
But he says the in-house versus outsource debate is being "talked to death" on panels, when he sees a fairly simple middle ground.
"I think there's companies out there doing amazing things like Kambi, like White Hat, and I want that," he explains. "I don't want to reinvent the wheel if I want to compete with the big guys in the market.
"I want to compete on brand, on experiences, on rewards, not on building out the same product that 50 other people will have in the next two to five years."
And while the business is gearing up for further expansion, he believes MaximBet's approach is already disrupting the market. Others are looking to muscle in with their own variants. "But we're authentic," he says.
"We're doing this the right way by setting the trend. The deals we do are first-of-their-kind deals: the first MLB player deal, the first female-fronted brand in the US, the first NIL deal. You can't take that away from us."
Graetzer is determined to keep that run of firsts going and hints at further innovations from his team, which he says is leading the US market in terms of brand positioning.
"We are so hungry to scale up," he adds. "We have incredible market access, and we're rolling out a number of states soon.
"For us the time is now and we're in a mad rush to get our brand in front of as many eyeballs as possible."